Photo Credit:Martin Hemsley Photography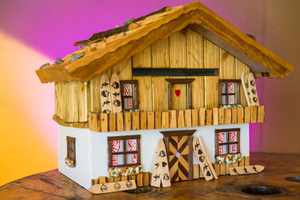 A Rustic Touch to decorate your space
I run Alcott Weddings and myself & Paul had our wedding there in September 2022. A Rustic Touch were on our suppliers list for their selection of items to hire. Their style was ideal for our wedding, and they were happy to custom design to. As our wedding was a ski theme, we thought a Chalet style post pox would be perfect. A Rustic Touch kept the design as a surprise to us for the wedding day and we were amazed at how stunning it was!
On top of hiring items Amie from the company helped to decorate all 6 hats of the tipis. A true godsend of a lady!
If you're looking for something a little different for your wedding day then A Rustic Touch can help!
Learn more from Amie at A Rustic Touch

A Rustic Touch began in 2021 just after myself and my husband got married. We, like many other brides and grooms had to postpone our wedding due to the pandemic and during that time we thought why not make items for our wedding day to make it that extra special!
It was a cold winter's day and myself and my dad decided to start putting some ideas together for our wedding day in his shed. We first came up with the design of a letter box using pieces or wood that he had lying around- once this came to life, we got the bug to design more and thought what a great idea to be able to hire these out as they would offer a unique touch to a wedding that no one else can offer. From there we have slowly started to add other rustic items to our collection and if you're anything like me and love the rustic theme then A Rustic Touch is for you.
We all know that planning a wedding can be stressful and if you're anything like myself you could spend hours and hours looking for different ideas so your loved ones will remember your day for many years to come!
That's where A Rustic Touch can help, we have hand crafted letter boxes, table plans and signs that can be hired out along with a variety of centre pieces, vases and also a beautiful flower arch!
After attending many weddings as a guest, so many brides and grooms worry about having the time to set up the venue and also clearing it the morning after! A Rustic Touch offers a drop off and collection service, so you don't have to worry about this! We can organise your venue and set up exactly where you want them.
We are based in Alvechurch and cover the local surrounding areas.
I have had the honour of being a bridesmaid and organising our very own wedding, so I know how time consuming it can be, A Rustic Touch are here to help take that pressure off your hands so you can enjoy every moment because trust me the day will fly by in a flash!
We had the honour of supplying some of our items to the lovely Lucy and Paul, her husband, at Alcott. After meeting Lucy, she gave me the challenge of decorating her very own venue (no pressure) and what a day it was! She hired table signs, a letter box and timing signs along with allowing us to decorate the tepees and tables and making it feel magical…… if you're reading this, A Rustic Touch would love to make your day feel magical too so why not get in touch, meet up for a cuppa and let's start planning your very own wedding day!!
We look forward to putting your ideas together and making this a day to remember.
Look forward to hearing from you Amie & Ryan
arustictouch17@gmail.com
Instagram _arustic_touch
Photo Credit:Martin Hemsley Photography