Alcott's Case Study in The Open Air Magazine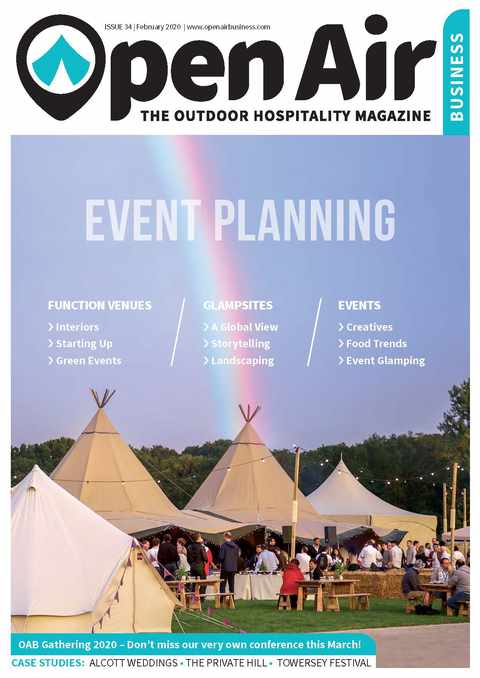 This wedding world is a pretty small one and one thing really leads to another!
I was put in touch with Kelly Chandler whilst discussing with another venue that I would like to do a revamp of my website. I was wanting to spruce up the pages and then add a separate side to the site showing that we offer corporate events, team building days, family fun days, parties etc to our fabulous outdoor venue in Worcestershire.
We had a great chat over the phone where she told me about herself and her business, the 15 years plus of industry experience really shone through when she was passionately talking of how she could help and steer my business in the right direction. One of her stand out comments which I have now implemented on my site is to include guide pricing for the selection of structures we offer, as todays wedding customers would really like to know this in their initial research.
I went onto find a great web developer simply called Nick Builds Websites, I met him at a group my business is proudly associated with called The Bromsgrove Oracle. As soon as we met I know he was going to be the one to help me on this venture. Nothing was too much trouble for him and his patience was and still is impeccable! :-)
Kelly is great at sending out emails that are really relevant resources and useful to your business. In January this year she sent me an email telling me about a great book that one of her clients had written about her experiences of converting and setting up a rural barn venue, its such a great read, very honest and practical - Why Put A Bow Tie On A Lama. She also went on to tell me that she was speaking at the Open Air Business Gathering in March. Its since moved dates to 8th & 9th September 2020 so you can still book tickets to come along, great for glampsites, venues, festival/event organisers, resorts and retreat developers. When I called to book my tickets I spoke to the editor Tally Wade, she was so helpful and she mentioned I could sign up for the Open Air Magazine for free and I will get it in the post 9 times a year.
20 minutes later Tally called me back and said she had been looking at my website and she very kindly invited me to complete a case study for the February edition. She thought readers would love to know more about how I went from having my 30th Birthday at my parents Farm, to transforming it into a summer season weddings and events venue.
I was over the moon to have been asked to do this and I accepted immediately. Answering all the questions took me back in time to when I started the business 6 years ago and it was a pleasure to write.
Since the publication I have receiving corporate enquiries which is really positive. I have had other venue owners get in touch that are just starting out with their ventures and meetings have been set up with all to discuss further and see how we might be able to help each other businesses.
Please see the case study here